Maria: We started thinking about vacuum cleaners (again!) sometime around the holidays last year. Our trusty 3-year-old vacuum suddenly started shutting down after 10 minutes or so of cleaning. There was also that funny smell. So, we decided to start doing some research on vacuums. In the meantime, a trip to the local vacuum shop solved some of the problems. We replaced one filter, and then Gary found another one we hadn't even known existed. Once we got that one cleaned up the problem was solved! Not that all that research was going to waste, because in the meantime the vacuum at Gary's mom's house was on its last legs.
Gary: My mom's house is about 1300 square feet. Large enough to indicate an upright, but with enough nooks and crannies to justify a canister. To my parents, $100 was a lot to spend on a vacuum cleaner, but since I do the vacuuming for my mom these days, and since Maria and I were buying the beastie this time around we were willing to spend more to get something that fulfilled all our needs. After looking at the field, we eventually decided on the Bissell Cleanview Helix Upright Bagless
Vacuum Cleaner.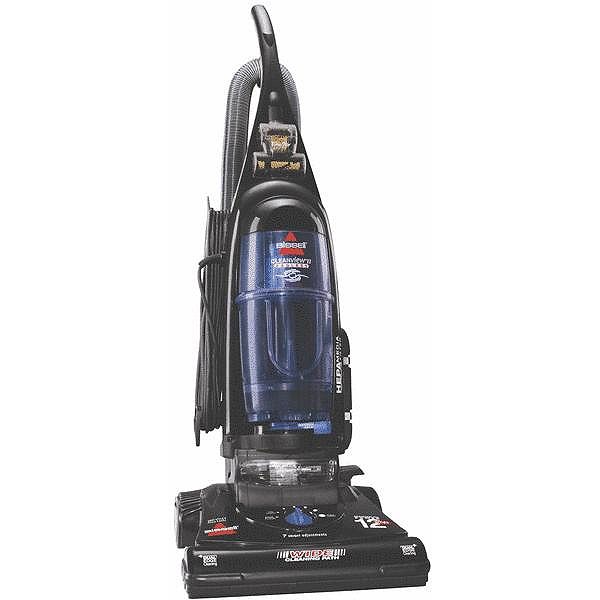 And as you can see, we held true to my parents' frugality as this unit sells for less than $100! But it also has impressive suction, a hose that is long enough and flexible enough to reach under furniture and beds or up to the ceiling, a Hepa filter and it is relatively light for an upright. It also comes with a turbo brush, crevice tool and upholstery brush that fit neatly on the unit. I didn't see anything in the mid-range price of vacuum cleaners that fit our needs any better in this case so this really seemed to be the best value, not just the lowest price.
Maria: We did consider a few other models, but none were quite right. We had our carpet cleaned a few months ago, and the carpet-cleaning guy recommended one that we almost went with - the Hoover Platinum upright with cannister
Hoover Platinum Lightweight Upright Vacuum with Canister, Bagged, UH30010COM
Upright Vacuums
)
.
There was a lot we liked about it; it's lightweight, has a kind of cool, retro look and comes with a little cannister. But, in the end, that's why we decided against it. It turned out that the cannister was the only way to get into those pesky nooks and crannies since the main vacuum has no hose. It just seemed better to have one machine that could do both. We were also intrigued by the little baby Dyson cannister
Dyson City DC26 Multi floor Canister Vacuum Cleaner
, but not enough to pay four times as much as the Bissell. We didn't even consider the much higher end models I came up with when we were doing the research for our own place. It would really have been too much for my mother-in-law's sensibilities, no
matter who was paying for it! I'll describe those in a
minute.
Gary: The Dyson City Canister that Maria mentions is an interesting unit - light enough that even my mom would still be able to use it and yet with surprisingly good suction when I tried it. It seemed head and shoulders above the other cordless models on the market. But like all cordless vacuum cleaners apparently only runs for 10 to 15 minutes before needing to be recharged.
Maria: It is still tempting! Definitely passes the "Maria Cuteness Test"! Ok, so when doing the research to replace our poor mistreated vacuum, which turned out to not be broken at all, but merely abused by us, I was pulled in by the siren-song of the high end models. And now that I've seen them I can't get them out of my head. However, neither Gary nor I are ones to replace things that still have life in them. Our trusty cars are in the ten-year old range, and we have our own frugal tendencies as well. However, when the time comes, these are the two brands I would like to consider - Miele for a canister that works on carpet
Miele Libra Canister Vacuum Cleaner, S5281 Libra S5 - Mango Red
Canister Vacuums
)
and Sebo for an upright
SEBO 9559AM Automatic X4 EXTRA Upright Vacuum , Red
Upright Vacuums
)
.
They are considerably more expensive than your regular vacuum cleaner, but I love the quality, features and dust-trapping abilities of them. So, someday when we actually need a new vacuum we'll see if we decide to spend the big bucks!